Go Bananas!
Sleek, powerful, and dominant, Library Monkey Pro is the 800-lb gorilla you need to handle all of your monkey business. A complete librarian and CD ripper with an integrated Sound Grinder Pro
Library Monkey Pro is the main event. Import, manage, edit, process and "Portion Control™" all your audio one place -- with full AU and VST Plug-in support. And don't worry if you're running ProTools®, Digital Performer®, Logic®, or another pro DAW, Library Monkey Pro fully adapts to any habitat.
Version 3 now includes:
Apple Silicon
Support for 64-bit
List view audio overview
New Watermark plug-in
Compatibility with MacOS 10.10 or greater
Additional performance and stability enhancements
Learn More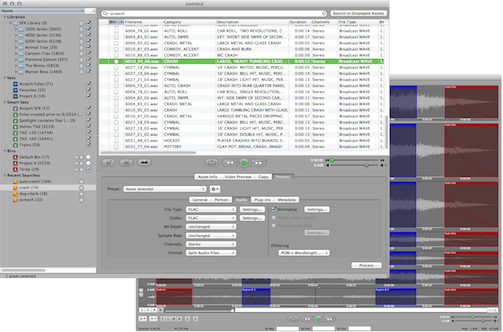 I've used LMPro to do hundreds of sample rate conversions...it's just drag and drop onto a Droplet I create (in just a couple of minutes), and that's it. Simple, easy, and very fast... must have audio software!
Michael B.
I needed to batch convert 200GB of .L and .R files. My other editors failed and gave me a sad. :(
Library Monkey Pro saved the day!!! Thanks !!!
Ant.